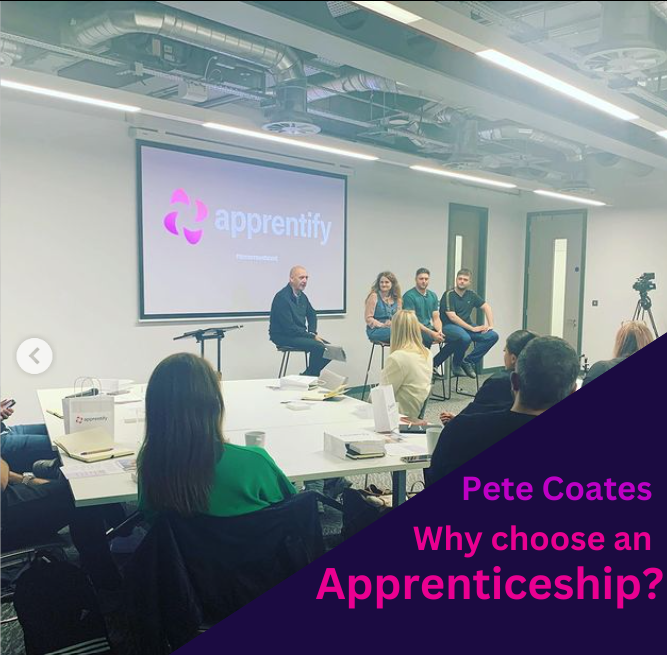 I went to the Apprentify event at No 1 Circle Square with two agendas.
One, host the event. Keep the energy levels high, run it to time, be the warm up act for the excellent speakers, run the question and answer panel session get across their points, and reassure the apprentices that all they had to do was tell their truth and relay their experience.
But secondly, I never stop being a parent. I'm on the lookout for opportunities and ideas for my five sons. They usually don't need my help, my ideas. They are resourceful and are busy building their own connections and preferences. Two have been to university, one joined the Army, another turned down offers from top universities during lockdown - wisely, in retrospect.
I'm not a helicopter parent either. But last night really tipped me over the edge in being a zealous advocate for apprenticeships, particularly in such a dynamic and in-demand sector like digital marketing.
But the target audience last night were digital marketing agencies. They came with plenty of questions over how they onboard their apprentices effectively, how they integrated learning with the requirements of day-today business.
Sandy Lindsay, founder of Tangerine and the Juice Academy, spoke of how the systems that Apprentify have put in place have transformed her good idea into great practice with a steady throughout of success stories.
She also spoke of how apprentices have helped level up the business. Their beauty is in their diversity, she said. There's nothing wrong with graduates, nothing at all, but fishing from a deeper pool has yielded a richer catch.
As the apprentices who gave their account also confirmed, there's no age limit, no formula background. Again, their creativity, their side hustles and their raw talent makes them who they are, makes them such compelling assets to any organisation.
Both Brian Whigham from Venn Digital and Pete Coates from the northern outposts of the vast Dentsu network made clear, apprentices haven't just helped themselves, they've made them both think about the learning cultures in their respective agencies.
And by the way, none of the agencies came along to the event thinking this was a great way to get cheap labour. As the Apprentify managing director Paul Drew made clear, if you do take that view you're doing it for the wrong reasons. In this market, the priority is getting skilled and sticky recruits. People who can learn on the job, appreciate the opportunity and grow with the business. That is worth its weight in gold at a time when the demand for talent is off the charts.