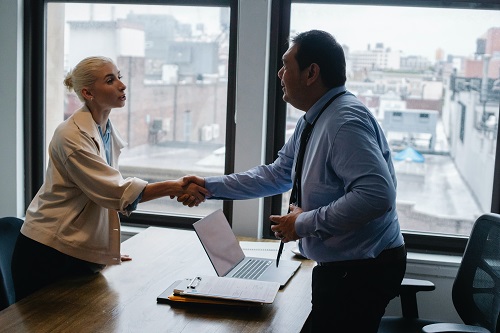 Are apprentices part of your recruitment plan? Incorporating them might just be the smartest move you'll make.
Not all businesses immediately entertain the prospect of apprenticeships when planning to grow. But things have come on leaps and bounds in recent years. Today's apprentice is a far cry from the widely held perception of young people seeking on-the-job training.
This kind of hire doesn't just bring an extra pair of hands to your team – it also has the potential to elevate your entire organisation.
How? Apprentify explains…
Create freedom and opportunities for current staff
If you do have a couple of experts in-house already, hiring a new team member through an apprenticeship can free these individuals up. They can then focus on the bigger, more complex tasks with the potential to yield long-term revenue.
The trainee can take over many of their day-to-day responsibilities and learn the ropes of the business whilst they're at it. This is an effective way to balance workload – as well as helping you refine your project management as an organisation.
You also finally get the freedom to test how adept your current staff are in leadership roles.
Future-proof your business
When apprentices cut their teeth at a particular company and enjoy the experience, they'll want to continue in the same environment once their placement is over in a permanent capacity.
Comprehensive apprenticeship programmes breed loyalty – leaving you with a hard-working, committed and highly skilled member of staff to boost engagement and retention rates. By hiring an apprentice, you're demonstrating your desire to implement a long-term plan – which ensures the advancement of the company for years to come.
With the right apprenticeship provider by your side, you'll also enjoy focused support that enables you to develop marketing specialists. Apprentify, for example, offer an exclusive Path to Mastery programme that ensures your new hire is skilled in the areas that bring the greatest benefit to your business.
Save on salary
Hiring an apprentice costs considerably less than a graduate. And you won't necessarily need to compromise – not all apprentices are fresh out of school. Some have already undergone further education and want to build on this with on-the-job training.
The average starting salary a marketing graduate can expect is usually around the £20,000 mark. For an apprentice, it's £12,000. As neither tend to have industry experience, both will need their hand held, so apprentices offer similar value at a lower cost to your business.
What's more, the Apprenticeship Levy means that you could either save money or recover tax by hiring an apprentice. For large businesses paying the levy, it's simply a no-brainer.
So, why Apprentify?
Since the arrival of the Apprenticeship Levy, countless providers have sprung up to meet growing demand. However, to get the best out of hiring an apprentice, it pays to partner with company that specialises in the particular skill set you're looking for.
Apprentify focus solely on digital marketing apprenticeships, and have a unique Path to Mastery that leaves you with an experienced marketer at the end. Not only that, but you benefit from a free recruitment service to help you find the right person for your business.
Ross Green, Managing Director of Manchester-based digital marketing agency Embryo, offers some perspective as to why Apprentify are the smart choice:
"Working with Apprentify is, and always has been, an easy and smooth process. From the superb range of candidates that SallyAnn sent across at the interview stage, to the catch-ups with Dale, who is always so helpful, we believe that Apprentify is one of the best digital marketing programme and talent providers we have ever worked with, and we have no doubt that we will continue to use them in the future."
Want to learn more about how Apprentify can help? Speak to the team today.