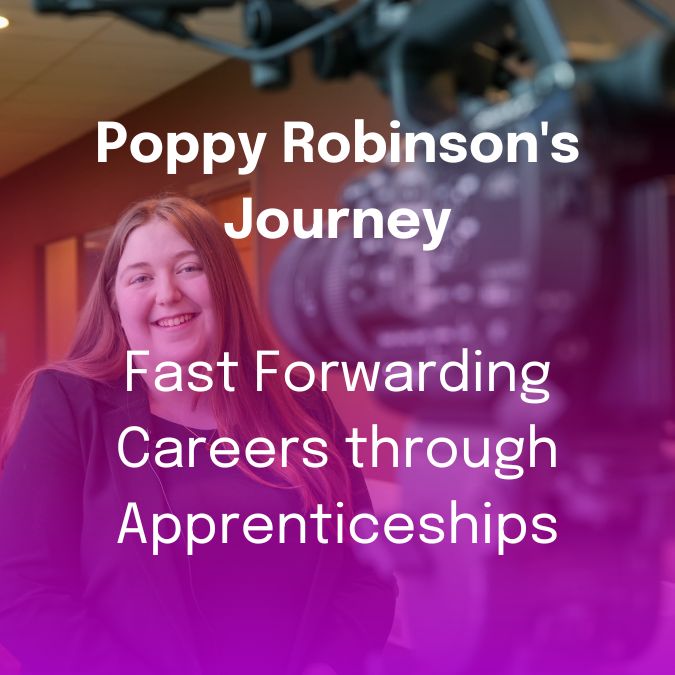 In today's fast-paced world, the traditional path of education followed by a job doesn't always lead to the desired career. Many individuals, like Poppy Robinson, find themselves in situations where they want to explore new industries and gain practical skills. In this blog, we dive into Poppy's experience as a marketing apprentice at Apprentify, an organisation that values the transformative power of apprenticeships. Poppy's journey showcases the immense benefits of choosing an apprenticeship to fast forward one's career, gain qualifications, and earn while learning.
From Photography to Marketing: A Life-Changing Decision:
Meet Poppy Robinson, an ambitious young professional who embarked on an extraordinary career transition. With a background in photography and a university degree, Poppy realised that her passion lay elsewhere. The prospect of starting an apprenticeship at Apprentify opened doors to an industry she hadn't even considered a year ago.
Building Confidence and Expertise:
Poppy's first six months at Apprentify have been nothing short of amazing. She acknowledges the pivotal role the organisation has played in boosting her confidence and equipping her with essential skills for her marketing role. Despite initially knowing very little about marketing, Poppy has thrived through the comprehensive training and guidance provided by Apprentify.
Switching from University to Apprenticeship:
Poppy's decision to transition from university to an apprenticeship was a bold one, but she hasn't looked back since. She emphasises that the learning experience as an apprentice is far more engaging and practical than traditional educational routes. Not only does one can earn a living while learning, but also the chance to work in a field they are passionate about, surrounded by like-minded individuals. For Poppy, this was an excellent choice that accelerated her career growth.
Encouraging Others to Fast Forward Their Careers:
Inspired by her own success, Poppy urges anyone considering their career options to seriously consider apprenticeships. By linking education, hands-on experience, and earning potential, Apprentify provides an unparalleled opportunity for personal and professional growth.
Poppy Robinson's journey from a photography graduate to a confident marketing apprentice exemplifies the transformative power of apprenticeships. Apprentify's commitment to helping individuals fast forward their careers by earning while learning is commendable. Poppy's story serves as a testament to the effectiveness of apprenticeships in building confidence, gaining qualifications, and exploring new industries.
To join the Fast Forward campaign and embark on your own transformative journey, apply for one of our apprenticeship programmes today!
Don't let traditional career paths limit your potential—discover the world of apprenticeships and unlock a brighter future.