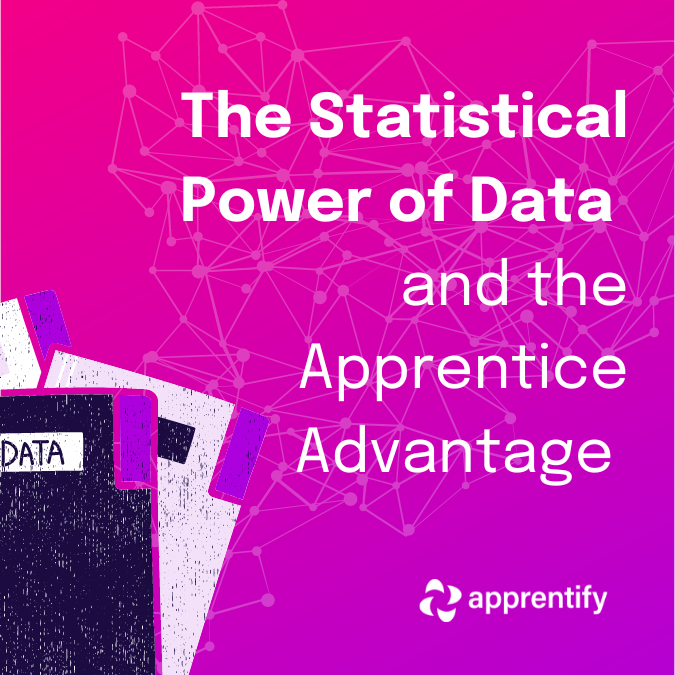 Welcome to National Conversation Week!
In celebration of this occasion, we want to spark a conversation with businesses about the significance of data and the benefits of hiring apprentices. By exploring compelling statistics, we aim to shed light on the invaluable role of data in decision making and demonstrate how incorporating apprenticeships can enhance a company's data-driven capabilities.
With the Power of Data In today's data-driven world, businesses are experiencing an explosion of information. Consider these eye-opening statistics
Over 2.5 Quintilian bytes of data are generated globally every day. By 2025, it is projected that global data production will reach 463 exabytes per day
Data-driven decision making has become paramount for business success. Let these statistics speak for themselves.
Companies that effectively use data are 58% more likely to outperform their competitors. Data-driven organizations achieve 5-6% higher productivity and 6% higher profitability.
The Apprentice Advantage Harnessing the power of data is where apprenticeships come into play. Here's why apprenticeships are a game-changer:
Hiring apprentices can be a cost-effective workforce solution, with apprentices often receiving lower salaries compared to traditional employees. This can result in substantial cost savings for businesses.
Apprentices bring fresh perspectives and innovative ideas to the table. In fact, 87% of employers believe apprenticeships increase innovation in their organizations.
Apprenticeships also have a positive impact on skill development and employee retention:
Businesses that invest in apprenticeships have an 86% retention rate of their apprentices. Apprenticeships also provide opportunities for mentorship, fostering knowledge transfer within organizations and improving staff morale.
Imagine combining the power of data with the apprentice advantage. Here's how it can benefit businesses:
Leveraging the digital fluency and enthusiasm of apprentices can enhance data analysis capabilities within an organization.
Mentorship plays a vital role in apprenticeships, contributing to improved employee performance and engagement. Statistics show that 77% of companies with mentoring programs report higher employee productivity.
By integrating data skills through apprenticeships, businesses can build a future-ready workforce:
The demand for data professionals is growing rapidly. By offering apprenticeships, companies can develop a pipeline of skilled talent to meet this demand. Apprenticeships provide an opportunity to equip employees with the digital skills necessary to thrive in an ever-evolving digital landscape.
Data-driven decision making is key to business success, and apprenticeships offer a powerful solution to enhance an organisation's data capabilities. As National Conversation Week encourages meaningful discussions, we urge businesses to consider the apprentice advantage. By doing so, they can unlock their business potential, foster innovation, and build a future-ready workforce.
Engage in the conversation during National Conversation Week and embrace the statistical power of data and the apprentice advantage. Together, let's shape a brighter future for businesses worldwide.
If you are interested in hiring a Data Analyst Apprentice, speak with a member of our team today!