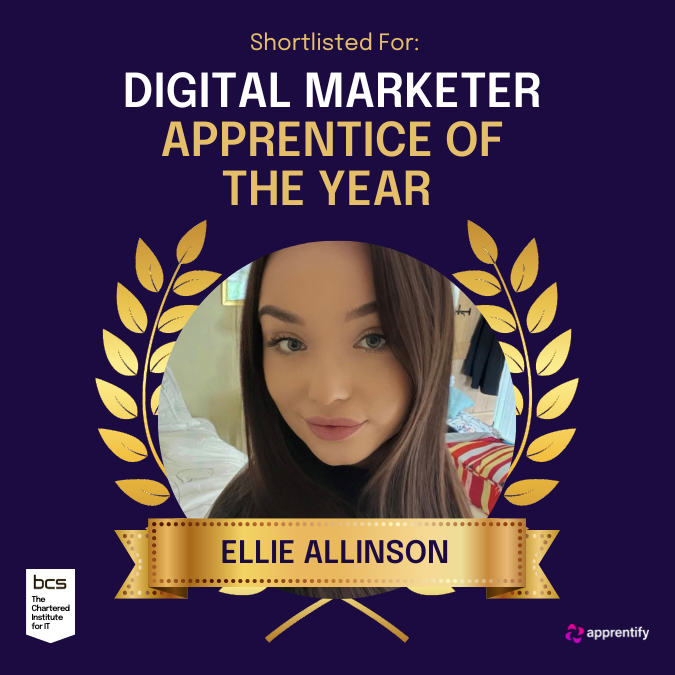 We are thrilled to announce that one of our exceptional apprentices, Ellie Allinson, has been shortlisted for Digital Marketer Apprentice of the year at the BCS Awards. This prestigious recognition highlights Ellie's hard work, dedication, and achievements throughout her apprenticeship journey with Apprentify.
When we spoke with Ellie, she expressed her excitement at being nominated for this award, saying
I'm so excited to have been nominated! Hearing from Apprentify was so lovely as I've missed being on program! Digital Marketing was completely new to me when I started my apprenticeship, and I can't begin to thank Apprentify enough, especially my coach Laura who was beyond supportive and really is one of the kindest ladies I've ever met. I'd also really like to thank Circle Health Group who championed me in my learning from my very first day. Mark, Debbie and Angela really couldn't have been more generous with their time and support with me at the hospital.
At Apprentify, we are dedicated to helping apprentices like Ellie to achieve their career goals and aspirations. We offer a range of industry-recognised apprenticeship programs that provide hands-on learning experiences, expert coaching and support, and the opportunity to develop essential skills for the workplace.
Ellie's success is a testament to her hard work, dedication, and commitment to learning. We are proud to have played a part in her journey and are honoured to have her as part of our community of talented and ambitious apprentices.
We would also like to extend our gratitude to Circle HealthGroup for their unwavering support and commitment to Ellie's growth. It is through partnerships like these that we can continue to provide high-quality apprenticeship programs and support the next generation of digital marketing professionals.
As the BCS Awards approach, we want to wish Ellie the best of luck. We know that she will continue to achieve great things, and we are excited to see where her career takes her.
Congratulations again to Ellie Allinson, and we wish her all the best for the BCS Awards!