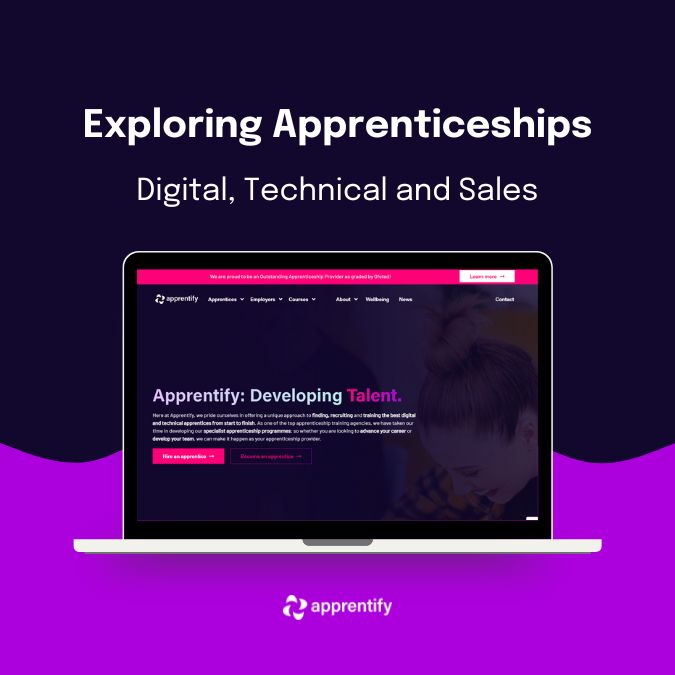 In recent years, the traditional approach to education and career development has undergone a significant transformation. Apprenticeships have emerged as a powerful alternative to traditional academic routes, offering hands-on experience, valuable skills, and a gateway to various industries. In this blog, we will delve into the exciting world of apprenticeships, specifically focusing on the diverse job roles available in the digital marketing, software, data, sales, and PR sectors.
Digital Marketing Apprenticeships
In the digital age, marketing has evolved into a dynamic landscape where creativity and technology intersect. Digital marketing apprenticeships open doors to a plethora of roles, from social media specialists to SEO analysts, content creators, and email marketing experts. These roles revolve around crafting engaging online campaigns, analysing data, managing customer relationships, and driving brand awareness. As an apprentice, you'll have the chance to work alongside experienced professionals, honing your skills in the ever-changing realm of digital marketing.
Software Apprenticeships
The tech industry is known for its continuous growth and innovation, and software apprenticeships offer a direct pathway into this exciting realm. From coding and programming to software development and testing, these apprenticeships provide a solid foundation for a career in software engineering. As an apprentice, you'll be immersed in real-world projects, working on cutting-edge applications and collaborating with experienced software developers to create solutions that impact businesses and consumers alike.
Data Apprenticeships
In the era of big data, harnessing and interpreting information is crucial for businesses. Data apprenticeships cater to the growing demand for skilled data analysts, data scientists, and data engineers. You'll be exposed to tools and technologies used in data analysis, data visualisation, and data-driven decision-making. This apprenticeship allows you to delve into the depths of data, drawing insights and patterns that can drive business strategies and optimise performance.
Sales Apprenticeships
Sales is the lifeblood of any successful business. Sales apprenticeships offer an excellent opportunity for individuals with strong communication and persuasion skills to thrive in this field. As a sales apprentice, you'll receive training in building client relationships, understanding customer needs, and refining negotiation techniques. This hands-on experience will help you develop a deep understanding of the sales process, preparing you for a rewarding career in sales or account management.
Public Relations (PR) Apprenticeships
Effective communication and reputation management are crucial for any organisation, and that's where PR apprenticeships come into play. PR apprentices gain experience in crafting compelling narratives, handling media relations, crisis management, and implementing communication strategies. This apprenticeship equips you with the skills to shape public perception and maintain a positive image for companies, public figures, or non-profit organisations.
Apprenticeships have proven to be a valuable bridge between education and employment, offering a practical and effective way to kickstart careers in various industries. In the realms of digital marketing, software, data, sales, and PR, apprenticeships provide aspiring professionals with a unique chance to learn from seasoned experts, work on real projects, and acquire the skills necessary to excel in their chosen fields.
Whether you are a recent graduate exploring your options or someone looking to make a career change, apprenticeships offer a world of opportunities. Embrace the learning journey, embrace innovation, and unlock a bright future in these thriving industries through the power of apprenticeships. Remember, the key to success lies in combining dedication, passion, and a willingness to learn and adapt as these industries continue to evolve in the years to come.