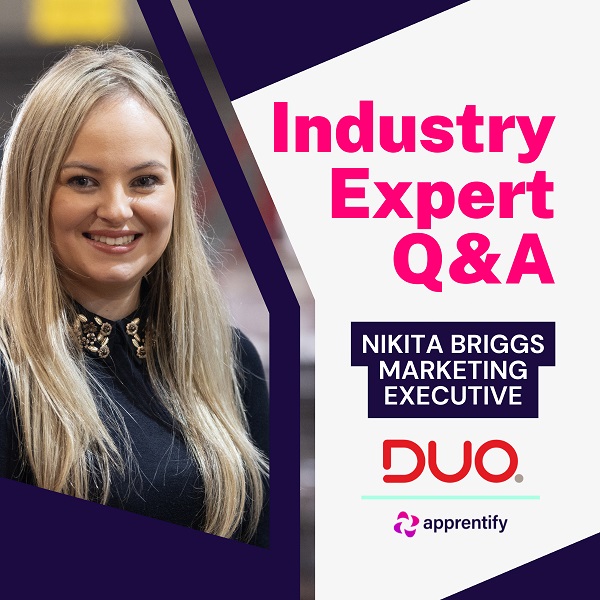 B2B Industry Spotlight: Meet the Expert Q&A Session



Nikita's Top 10 Marketing Tips
Let's bring B2B brands to life! It's easy to fall into the trap of thinking that storytelling and creative marketing is reserved for those in the B2C industries and yes, B2B marketing does have it's own unique set of challenges as often the products and services can be fairly technical and complex, but it's a challenge that we're up for.
We have brought together two B2B marketers for a Q&A session to address some of the challenges within creative marketing and pulled together some top tips.
Back in 2015 Nikita Briggs completed work experience at DUO, then later that year started training as a Social Media Apprentice with The Juice Academy. DUO is a packaging manufacturer who have been a long-time supporter of apprenticeships, teaching apprentices about the manufacturing industry, showing them career progression and giving them lifelong skills. So, when an apprentice asked us questions about some of the challenges faced by B2B marketers, we couldn't think of anybody better to introduce her to than Nikita.
Here's a roundup of the questions posed to Nikita, the different perspectives shared and ideas on how to deliver a positive impact online:
Q: Do DUO use video content?
DUO have created video content to showcase the manufacturing process and what this looks like in its entirety to the customer, showcasing each of the different stages. As a marketing executive, it is my job to be involved with the marketing tactics which makes it brilliant – no two days are the same. The video helps to educate customers and is also a useful tool to share with customers who are not able to visit the site and particularly beneficial during COVID. As video content can be used across multiple platforms, mapping out a customer journey may help you to identify the different touchpoints and opportunities.
Some of our clients have used video content of the manufacturing process on their social channels to educate their internal team or engage their clients.
Q: Can you adapt B2C techniques for B2B?
Yes, definitely! The majority of what you learn about marketing, B2B or B2C, can be adapted. You can take a lot from the theories of marketing and the different methodologies and then apply them to the business that you work for. At times, you may need to approach things from a different angle but it is important not to rule techniques out because you operate in a more technical B2B environment.
Q: Do you encourage staff to engage in the marketing plan?
Great question! When you're a marketer you should consider all the stakeholders, external audience as well as the employees. Encouraging staff to create and share their own social media content helps increase your reach.
We're currently working on a recruitment campaign to help address a current challenge we face which is recruiting staff. We want to attract team members that share our values, so we featured our existing team members talking about their careers in a social campaign. This content has been used on multiple platforms such as website, social media channels and internal communication channels. LinkedIn is our best performing channel for team engagement and often our stakeholders recall our LinkedIn posts.It always brings a smile to my face knowing the content I've created is engaging, memorable and results in a successful campaign.
Q: How do you balance product and none-product (lifestyle) related content?
We use topic sections on the website such as industry news, careers at Duo, products, case studies and about us. Our brand position is a forward-thinking company for forward thinking brands and this is at the forefront of every piece of content created.
Q: How often do you measure engagement?
Don't get caught up on daily statistics, in our B2B environment monitoring engagement monthly works well. Use the stats to learn what works and what doesn't and use this to inform your future content plan.
Q: What competitors considerations are made when planning marketing content?
There's nothing wrong with healthy competition. Don't shy away from celebrating customer success stories. Featuring customers case studies or in social posts, for example, can be a really rewarding way of engaging your customers and attracting prospective customers.
A competitor analysis including their social media performance helps provide a comparison of your performance.
Q: Have you got any tips that you can share on how to succeed as a digital apprentice?
Absolutely! As an apprentice, back yourself and embrace the mentality that "this is my job and I can do it!" Have the confidence to work with other people, build internal relationships through employee engagement, then leverage those working relationships to help create content and support your marketing activities.
Nikita's top tips:
1. If you have the luxury of going onto the factory floor then go, understand not only the product that you are marketing but also gain an appreciation and knowledge of how the products are made.
2. Understand the company objectives so your suggestions are relevant and contribute to the companies success.
3. One my manager taught me. Question yourself... What is the purpose of this content? Does this content I'm creating achieve our objectives?
4. Monitor engagement monthly, allowing time to identify trends and don't be afraid to change plans to lean into what is working.
5. Take your learnings from your apprenticeship and have regular one-to-ones with your manager to update them on what you are learning and discuss opportunities to apply what you've learnt. The business has invested in you and your education, so demonstrate the value.
6. If you see high engagement rates on a specific piece of content, pay attention to this. Question what it was about the content that the audience responded well to and consider how it could be implemented in future marketing plans. Use the knowledge!
7. Time block your tasks. Marketing involves many projects and time blocking helps keep on track to meet deadlines.
8. Have fun being creative. Explore the different digital tools and techniques to build a picture of what works well for the business and your audience.
9. Don't be afraid to ask. If you have particular interest or area you need to learn more about, go for it. There is an abundance of knowledge out there from LinkedIn groups, Youtube videos, podcasts and the people within the organisation in which you work.
10. "Get out there and do it", you've got to "go for it". Nikita doesn't feel that she would be where she is today if she didn't gain confidence in herself or had the level of support from her manager that she has had. Open communication between you and your manager is a key stepping stone to success.
If you're an apprentice in a B2B environment, take time to think about who you could add to your network and engage with. Sharing best practice and empowering one another cultivates a genuinely unique learning environment for you to excel in.
Apprentify would like to thank DUO for the time that they have taken to help and support a fellow digital marketer, with special thanks to Nikita for her wholesome support and words of wisdom.