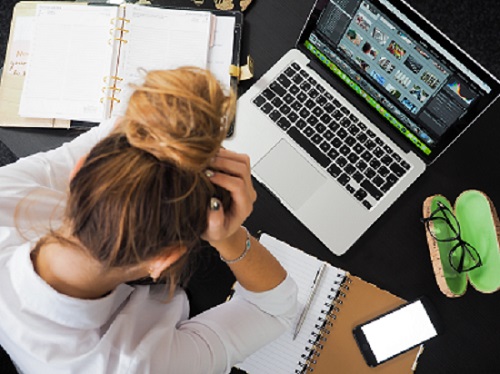 Do you ever feel overwhelmed on your apprenticeship?
A new career can feel overwhelming and can even leave you feeling incompetent, especially if you are juggling many things at once. A good example of this is trying to juggle an apprenticeship and work which can sometimes feel like a formidable challenge. While it can also be an exciting challenge, it can often leave apprentices feeling overwhelmed and under pressure.
Working with apprentices, I often hear them say "I'm completely overwhelmed and don't know what I am doing". This blog is about helping YOU get the best start before your insecurities leave you feeling lost, stressed, and overwhelmed.
The first few months of a new apprenticeship can be completely overwhelming. Not only do you have to work full-time, but you're suddenly inundated with a whole slew of projects, assignments and classes to attend.
Sometimes you can feel like you have absolutely no idea what you are doing feeling lost in a cloud of unfamiliar work jargon and processes. You may even feel discomfort. According to career coach Steve Errey,
"Discomfort means that you're out there exploring. It means you're in a place you haven't been before; maybe you're learning a skill for the first time that makes you feel clumsy or incompetent."
You're bound to have mixed emotions when you are new at a job, which can often cause a fresh set of challenges that you haven't necessarily prepared for. With the help of these 4 top tips, you'll be settling into your new apprenticeship in no time.
Prioritise tasks and set realistic expectations
A new job means adjusting to the demands of your role, which may find you struggling to prioritise tasks. From the get-go – organise your tasks in order of importance and don't clutter your to-do list with and to many tasks.
When starting an apprenticeship, it's important to take things slow and applaud every single accomplishment you achieve. If you commit yourself to too many jobs on your 'to do' list, you won't finish them, and you feel more stressed. Focus on your most important priorities each day. You will feel much more accomplished when you're able to clear your to-do list on a daily basis. Lastly, don't be afraid to discuss with your manager or your development coach if you are starting to feel snowed under.
Why not start prioritising now? On www.vertex42.com you can download a choice of to-do list templates and excel sheets, it's free!
Don't be too hard on yourself
Settling into a new role within a new environment can be nerve-wracking, and It's only natural that you want to make a good impression. Try not to put pressure on yourself to perform, perfectly, right from the start. A good employer won't expect you to hit the floor running they simply expect you to spend time getting to know their business. The best thing to do is to be yourself and try your best. Give yourself the chance to learn during this transitional period.
When you start a new role, it is about trial and error you're not going to do everything right the first time around! it's going to take time to learn the ropes and best practices of your new workplace. So, try to focus your mind on seeing mistakes as a learning experience and don't forget to focus on the wins!
Are you feeling overwhelmed at work?
Accept help and take advantage of the resources around you.
People won't see you as incompetent if you ask for help quite the opposite, they'll see you as being competent enough to know when to ask for help. Don't let your pride get in the way of trying to prove that you can do it all on your own. Utilise the help and resources you have around you. It gives you a chance to bond with your new team, but it will help you learn quicker and you'll feel less overwhelmed.
If you're feeling stuck because you haven't had enough support, you should ask your development coach to meet with you to discuss your concerns. Try to be specific when you meet them and let her/him know which areas of training you would like to work on more.
don't be afraid to ask for help at work
It will get easier
It's normal to struggle when you're adjusting into a new role. However, you see it, the first few days (or weeks/months) are probably going to be difficult. You might second guess your abilities, feel uncomfortable speaking up and feel out of depth with everything you need to learn. Also, the days will feel long as you try to adjust into your new routine.
And then—just like that—it'll get easier. You'll start to learn the job, you'll understand what's expected of you, and you'll feel more confident—and that's when you'll really start to thrive.
it will get easier in your new job
Simply take it a step at a time; no one is going to reprimand you for making small mistakes. There will be a lot of information to take in, but don't feel pressured to remember everything straight away as it will soon become second nature to you. Always, keep your long-term goals in the back of your mind to keep you going.
Take advantage of your development coach who will help you through your transition so that you're in a better position to succeed. A coach is someone who you are accountable to and can rely on for help if you're feeling overwhelmed or confused.