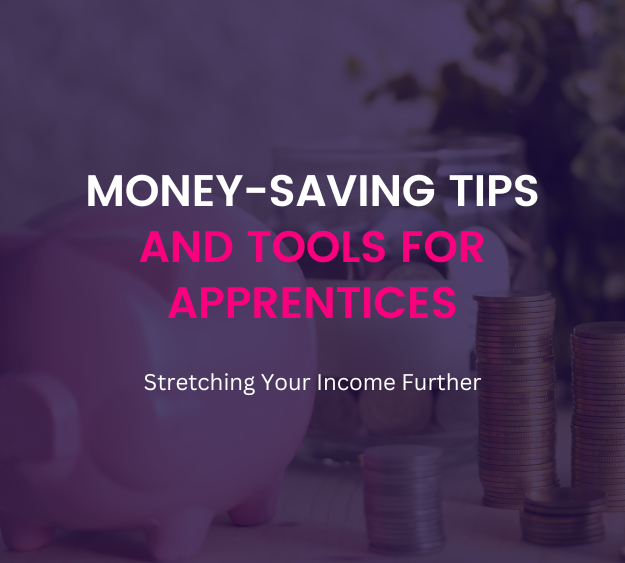 As an apprentice, managing your finances can be tough, especially with the cost of living and essential expenses to cover. But fear not, there are plenty of ways to save money and make your income go further. In this blog post, we'll share some savvy money-saving tips and tools that can help you budget effectively and still enjoy the things you love. From buying groceries past their "best before" dates to using railcards for cheaper train travel, there are many small steps you can take to build healthy financial habits and improve your bank balance. So, let's dive in and explore some practical ways to save money as an apprentice.

Buy past 'best before' dates:
'Best before' dates are solely recommendations about food quality, not safety. The Approved Food website can help you cash in on this by selling groceries close to (or past) their best before dates that are still safe to consume. It's one of the best ways to save money. We slashed £55 off one shop, so there are great savings to be had.
Shop in the evenings:
After about 6pm, most supermarkets start heavily reducing prices on items they need to shift by the end of the day. If you're flexible on brands and flavours, you could bag fresh produce that's still perfectly fine to eat, just a lot cheaper. However, don't shop on an empty stomach. Otherwise, you'll end up buying food on impulse.
Join secret sales websites:
Several sites run limited-time flash sales on everything from designer clothes to holidays. The savings are significant, but you need to be signed up to hear about the sales. Most secret sales sites rely on word-of-mouth and are not heavily promoted. However, big retailers also dabble in this market to help clear surplus stock. A "prime" example is Amazon's Today's Deals section.
Get a Big Mac and fries for £1.99:
If you can exercise some self-control, this trick should save you some money whenever you decide to treat yourself. All you must do is get a McDonald's receipt, fill out a quick survey on their site, and the Big Mac and fries discount is yours. When using your McDonald's £1.99 deal, you can then use the receipt from that to keep the process going.
Use the 'skimming' trick:
When you experience the thrill of money hitting your account – be it your Maintenance Loan, some birthday cash, wages, or anything else – skim 10% off the top and whack it in a savings account. If you can manage just £20 a month, you'll be £240 better off at the end of the year. And if you stick it in a top-paying savings account, it could be even more.
Try the 1p Savings Challenge:
If taking 10% off all incoming funds sounds like too big a commitment for you, try the 1p Savings Challenge. The premise is simple: on day one, you save 1p. On day two, you save 2p. On day three, 3p (and so on). After 365 days (or 366 in a leap year) have passed, you'll have saved over £650!
Get everything for five pounds:
Everything5Pounds sells clothes, homeware, and toys for (you guessed it) around £5. A lot of their stock is high-street quality as they buy unsold stock in bulk and sell it to you for a fiver a pop.
Use Vinted / Depop:
Second-hand clothing shops such as Vinted and Depop allow you to buy practically new clothes for a quarter of the price. This can save a lot over the period of a few months.
Get a Railcard:
If you get the train regularly, there are multiple railcards available for different circumstances. On average, you could save £140 per year!
Use Too Good To Go:
With the Too Good To Go app, you can eat well while making an impact. Simply download the app and see what food discounts are In your area. These can be bags from Co-op, Subway, Starbucks and much more!
Managing your finances as an apprentice can be challenging, but it's not impossible. By being savvy with your spending and taking advantage of money-saving tips and tools, you can make your income go further and still cover your essential expenses. From buying groceries close to their best before date to using railcards for cheaper train travel, there are many ways to save money and still enjoy the things you love. By taking these small steps, you can build healthy financial habits that will serve you well into the future. So, start today and see the difference it can make to your bank balance.