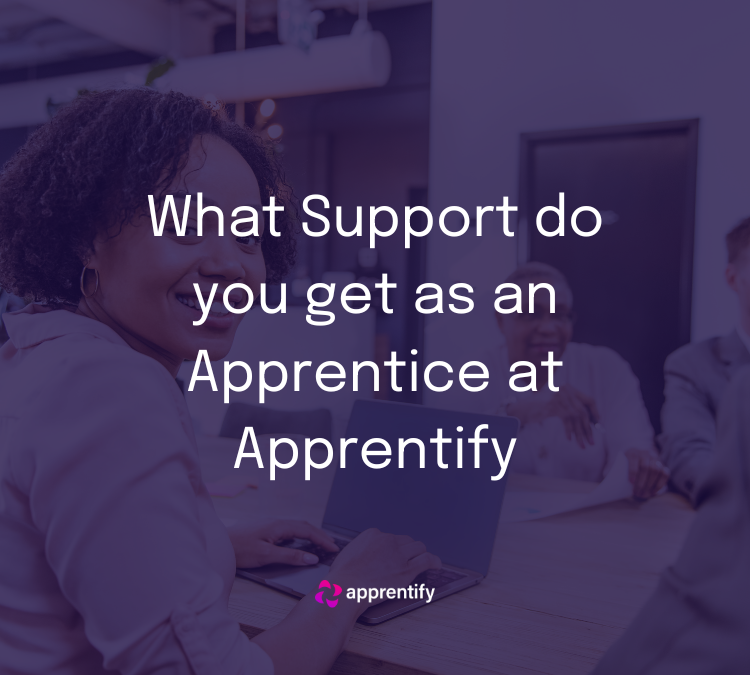 Are you considering an apprenticeship as a pathway to your dream career? Or maybe you're already enrolled in an apprenticeship program but feeling uncertain about the road ahead? At Apprentify, we understand that the journey can be challenging, which is why we're committed to providing our apprentices with comprehensive support every step of the way.
Here are just a few ways we support our apprentices:
Development Coach:
We assign each of our apprentices a dedicated Development Coach who works closely with them throughout their apprenticeship. Your coach will be your go-to person for guidance, support, and mentorship, helping you to set and achieve your goals, and reach your full potential.
Safeguarding Team:
We take the safety and wellbeing of our apprentices seriously. That's why we have a specialised Safeguarding Team in place to provide support and resources to our apprentices. Whether you need help with a personal issue or are feeling overwhelmed by the demands of your apprenticeship, our Safeguarding Team is here to help.
Cognassist:
We're proud to partner with Cognassist, a leading provider of personalised learning support for apprentices. With Cognassist, our apprentices have access to a range of resources and tools designed to help them overcome any learning challenges or difficulties they may face.
Information, Advice, and Guidance:
Before you start your apprenticeship, we'll provide you with in-depth information, advice, and guidance to ensure that you're fully prepared and ready to excel. We'll help you navigate the complex world of apprenticeships, understand your rights and responsibilities as an apprentice, and set clear goals for your journey ahead.
Mentor Support:
We work closely with your employer to ensure that you have a dedicated mentor who will provide you with ongoing support and guidance throughout your apprenticeship journey. Your mentor will be there to answer your questions, offer feedback and advice, and help you navigate the challenges of the workplace.
At Apprentify, we believe that every apprentice deserves comprehensive support to help them achieve their goals and succeed in their chosen career. Whether you're just starting out on your apprenticeship journey or are already well on your way, we're here to support you every step of the way.
So what are you waiting for? Join the Apprentify family today and take the first step towards a successful apprenticeship and a bright future!