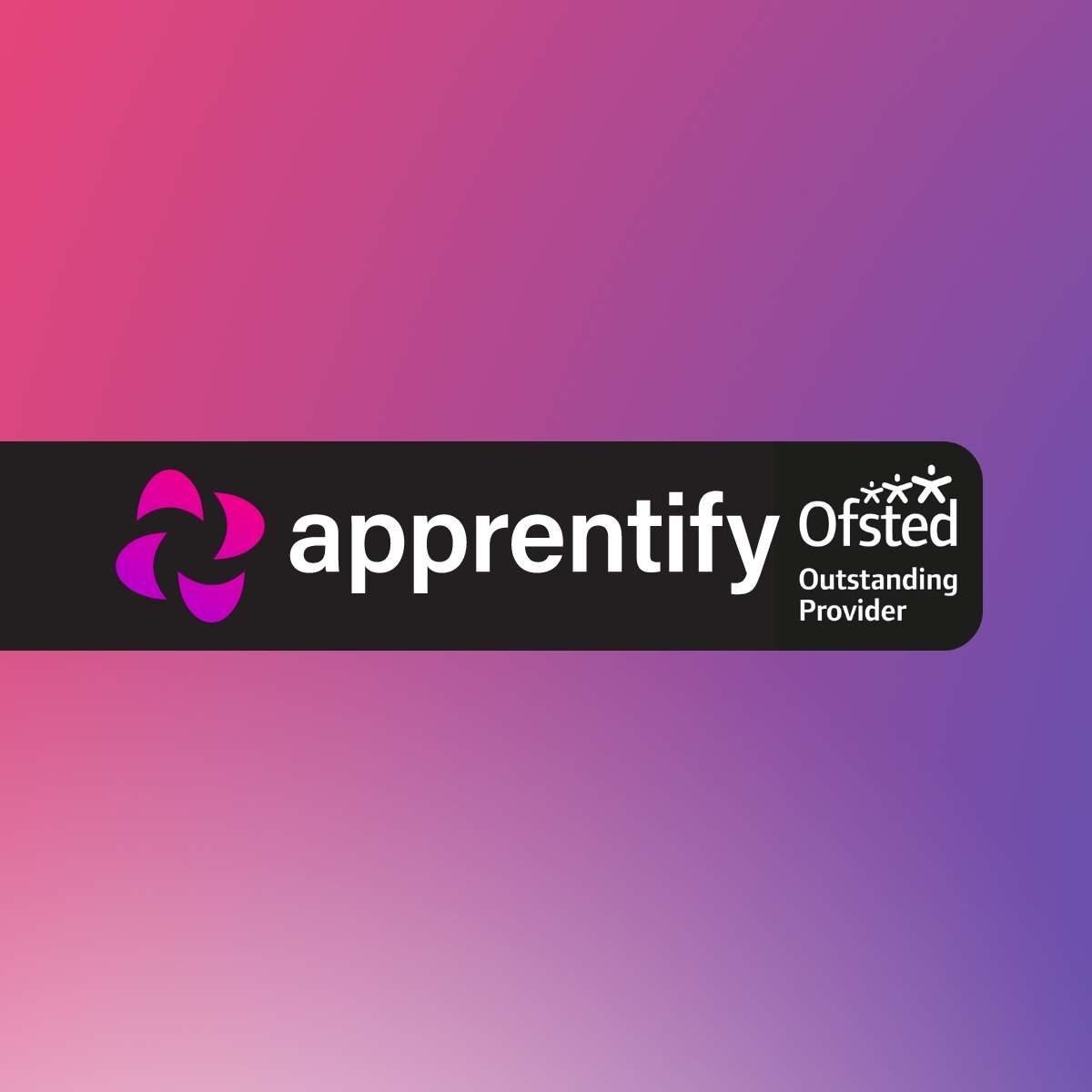 Apprentify
October 2022
Press release
Specialist digital, marketing and sales apprenticeship provider Apprentify has secured an Outstanding rating in its first ever Ofsted inspection, placing it in the top 2.6% per cent of independent learning providers in the country.
With an 86% distinction rate and nearly 90% employer and apprentice satisfaction score, Apprentify, based in Alderley Edge, has been recognised for supporting learners to achieve excellent progress in their studies and subsequent job roles, creating highly valued members of the workplace.
Of particular note in Ofsted's feedback, was that apprentices develop the confidence to present and communicate within business, and receive additional learning activities – including networking, conferences and masterclasses – to meet the specific needs of their employers. Apprentify's courses create 'enthusiastic and motivated' students and encourage apprentices to develop a 'lifelong love of learning', according to the report.
Jonathan Fitchew, Group CEO, Apprentify, said: "This achievement comes down to our thorough understanding of how to create the best possible learning journey for apprentices, and provide employers with the best possible talent.
"The students' choice of course sets the tone for the rest of their development, so we support students to find a programme which matches their personality and ambitions in our digital assessment centres. From there, we deliver outstanding learning opportunities through industry and sector experts who have a true passion for teaching, to create pathways to mastery, forging fantastic futures.
"Everyone who learns with Apprentify is taught the skills they need to operate in a business and progress beyond their apprenticeship, and the benefits and fundamentals of learning become so deeply engrained within them.
"Ofsted inspections are an opportunity for us to receive external scrutiny, to assess what we are getting right and receive advice on how to up our game further. To achieve an outstanding rating in our first ever inspection is testament to the hard work and dedication we put into helping both apprentices and businesses to flourish through skills development.
"Our objective now is to continue raising the profile of apprenticeships as a highly credible form of further education and route into employment for those who respond well to the blend of online learning and hands-on experience in the workplace."
In addition to its apprenticeship programmes, Apprentify provides online courses in creative, technical and sales sectors to people over the age of 19 across the country, with the aim of creating business-ready experts to support employers seeking key skills. It also offers the Apprentify Academy, an in-house training programme for new staff, which enables industry experts to move into teaching and coaching.
Some of the highlights identified by Inspectors were:
Apprentices quickly become highly valued members of their team in the workplace.
Apprentices make excellent progress on their apprenticeship and at work
Leaders include additional learning to meet the needs of employers
Apprentices are enthusiastic and motivated to succeed on their apprenticeship.
They consistently demonstrate extremely positive attitudes to their work and their development
Apprentices benefit greatly from the industry expertise of their development coaches who support them to develop new knowledge, skills and behaviours swiftly.
Support apprentices to evaluate marketing campaigns, deal with client calls and using data to measure the success of campaigns.
Staff encourage apprentices to develop a 'lifelong love of learning'.
Apprentices gain confidence and improve their communication skills as a result of their apprenticeship.
Apprentices access a range of additional activities such as attending networking conferences, exhibitions and masterclasses.
Apprentices develop the confidence to present and communicate within their business and with customers.