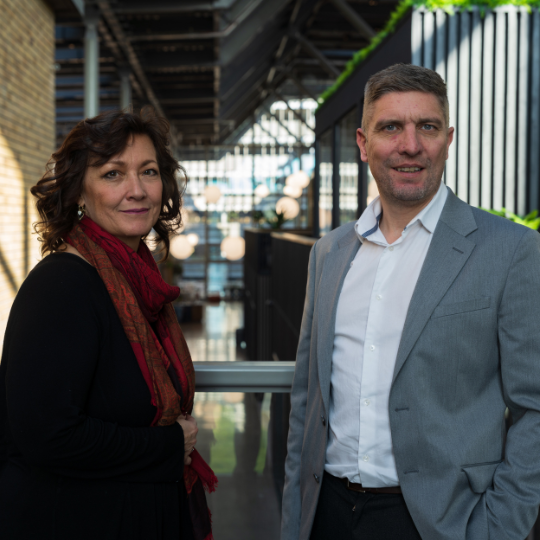 February 2023
Alderley-Edge based digital apprenticeship provider Apprentify has been praised by the Department for Education for its contributions to the industry during a recent visit from Karen Riley, Deputy Director, Quality Apprenticeships Directorate for the Department for Education.

While at the company's head office at the Glasshouse in Alderley Science Park, Karen met with the team to learn more about how they are delivering high standards of service to a current cohort of over 300 digital apprentices, studying subjects such as sales, data analytics and digital marketing. They also took the opportunity to discuss some of the barriers that providers face, including inequalities within the standards that need to cater for both large organisations and SMEs, and the belt and braces approach of auditing.
Karen Riley, Deputy Director of Quality at the Department for Education said: "Apprentify has experienced significant growth over the last twelve months. It was brilliant to meet its highly committed team and see first-hand how they're setting the standard for digital apprenticeships and celebrate their well-deserved Outstanding Ofsted rating.
"Digital apprenticeships are fast-growing, and a great example of how apprenticeships are the best way to respond to employer needs as they develop."
Apprentify has experienced significant growth over the last twelve months and celebrated notable milestones including an Outstanding rating in a recent Ofsted review. Representatives were also recently invited to a parliamentary reception to celebrate their nomination for Apprenticeship Provider of the Year in the AAC Apprenticeship Awards 2023, in association with City & Guilds. The event was an opportunity for sector movers and shakers to gather and hear from speakers such as Lord McNicol of West Kilbride and other industry leaders.
Jonathan Fitchew, CEO of Apprentify Group said: "I am incredibly proud of how hard the team has worked to deliver results for our apprentices and their employers. Having our efforts recognised by the Department for Education is a testament to everyone involved, and we hope to carry on our conversations to advise on how we can make improvements to the standards that will benefit everyone."
Chief Operating Officer of Apprentify Paul Drew added: "It was amazing to meet Karen and go through all the great things that Apprentify has achieved. We are really looking forward to working with Karen and her team to help shape the sector and showcase the gold standard that Apprentify has set."
About Apprentify Group
Apprentify Group is a training and apprenticeship provider for the modern world. Consisting of Apprentify and Netcom Training, the Group empowers people with new digital skills for new and emerging careers.
Recently rated Outstanding in all areas by Ofsted, Apprentify offers a unique approach to finding the very best apprentices for roles such as Sales, Digital Marketing, Junior Content Producer, Data Analyst and Software Developer. With an extensive list of educators providing online courses, Apprentify can work with businesses to fill roles as an 'earn and learn' route for school leavers and offer apprenticeships to existing in-situ employees to expand knowledge and upskill staff.